Nest thermostat installer Isle of Man
Nest thermostat Installation
Smart thermostat installation across the Isle of Man
We install smart thermostats in the Isle of Man. To order your new Nest thermostat – Contact us here to book an appointment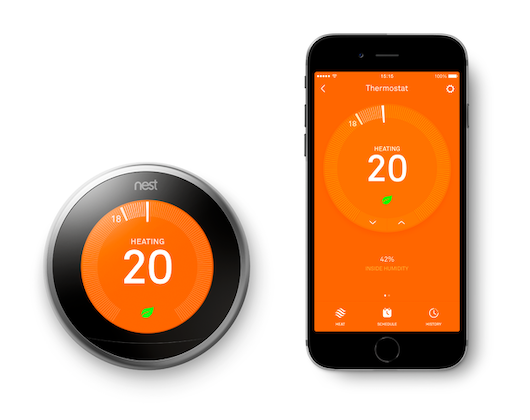 Why invest in a Nest smart thermostat?
Nest thermostats are a great addition to any home. They allow you to alter the temperature of your home anywhere and anytime- via your smartphone! This means you can forget about worrying about your heating when you are out, as you have full access through your phone!
Nest thermostats also allow you to see how you can be saving money on your heating, as they send you monthly and annual heating reports. This allows you to see where you can cut down, in order to save yourself money in the long run! This is great for anyone who is looking to lower their energy bills but doesn't know where to start.
As well as this, you can alter the temperature of each room individually with a Nest thermostat. This allows you to make your home feel even more personal, as each person can have their room at a temperature that suits them!
Need a smart thermostat in the Isle of Man?
To order your new Nest thermostat – Contact us here to book an appointment
Key Benefits of the Nest Thermostat
Efficiency & cost – Save money by monitoring your heating usage and turn off your heating remotely when not at home
Maximum control – You have full control over your heating from your phone and can use the timing programmer, thermostat and frost settings – all you need is an internet connection.
Simple scheduling – The advanced Nest Learning thermostats allow your thermostat to devise a schedule automatically based on the way you use it
Environmentally friendly – Do your bit for the environment by only having your heating on when you need it
Compatibility – The Nest Smart Home Thermostat is compatible with most heating systems and setups
Easy to install – Wired and semi-wired installation options available
Advanced Smart Thermostats
The advanced Nest Smart Home devices are able to automatically work out how long a house takes to warm up. They will then use this information to turn on the heating so that heating reaches the temperature you want at the time you want it, rather than having to wait for the warm up period. Nest lets you monitor your heating usage, giving you data on how long and how often your heating is turned on. It replaces your normal thermostat and heating programmer, and can turn a boiler on or off automatically.
Nest thermostat colour options
Tado Smart thermostat installation for the Isle of Man
For product information see here … https://www.tado.com/gb-en/smart-thermostat-overview
Contact us here to book an appointment to get Tado smart thermostats installed : )